Mission
HiTops is a health education and advocacy organization dedicated to ensuring every adolescent safe passage to adulthood by providing comprehensive sexuality education and promoting healthy relationships and supportive connections.

We Believe
HiTOPS believes that we all have the right to factual information about our health, especially adolescents. Founded by nurse practitioners and health educators, HiTOPS' collective expertise is based on nearly 30 years of youth-focused healthcare provision and interaction.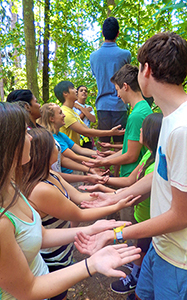 Our health educators develop and implement curriculum that is medically accurate and age-appropriate. Each question is answered, without judgment, so that every teen or young adult will hear a message that is relevant and useful to them at a moment in their life when it matters to them.
HiTOPS wants every young person to feel connected and safe. By training adults and peer leaders, we help schools and other settings put "protective factors" in place that make adolescents less likely to engage in risk behaviors and change the culture to reduce bullying, harassment and assault.
By engaging youth around topics of their own health, a young person learns to develop habits of making decisions that support their health and future goals. The interventions that HiTOPS provides—resources, information, support—are proven to help teens and emerging young adults navigate their way safely through the developmental behaviors of risk-taking and experimentation so integral to growing and becoming independent adults.
Everything we do, works to ensure every adolescent
safe passage to a healthy adulthood.
Every day requests for help come from parents, schools, juvenile detention centers, group homes, and family and youth service agencies in the areas including:
● Safe Dates
● Postponing Sexual Involvement
● HIV Prevention
● Pregnancy Prevention
● Puberty
● Body Image
● Bullying
● Cyber Bullying
● Homophobia Reduction
● Appreciating Differences
● Sexual Harassment
● Healthy Relationships